Gas Tank Restoration Kit
Street Rod Part #

PORTANK
---
$84.50 Kit

Gas Tank Repair Kit - POR15
Gas Tank Restoration Kit. This is a complete kit to restore and maintain old, gummed up fuel/gas tanks. Includes a cleaner, metal prep, sealer and complete instructions. Seale...
For All Cars and Trucks
Gas Tank Sealer
Street Rod Part #

3657942C ALL
---
$32.25 Quart

Gas Tank Sealer Slosh (Alcohol Resistant)
This will effectively seal your gas tank.(contains MEK). Recommended for new tanks . Works with all fuels. Avoid using any product that contains (MEK) Methyl Ethyl Ketone as t...
For All Cars and Trucks
Metal Prep
Street Rod Part #

PORMETAL
---
$16.99 Quart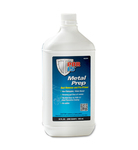 Metal Prep POR-15
This product etches the metal and provides a zinc phosphate coat to inhibit rust & improve paint adhesion. Use it on galvanized or stainless steel, aluminum and other metals. ...
For All Cars and Trucks